Defence & Support
Security through High Technology
Security through High Technology
ILA Berlin's Military Support Center (MSC) is the meeting place for industry and armed forces from all over the world. Present your company's portfolio of services alongside the largest exhibitor, the German Armed Forces (the Bundeswehr), and discover opportunities for cooperation between manufacturers and armed forces.
In conversation with decision-makers
In order to experience peace and freedom, security is essential for our society. A crucial element in ensuring this security is the presence of armed forces that are both prepared for action and capable of asserting themselves. Achieving this level of readiness requires a meticulous coordination between state-of-the-art technologies and highly skilled specialists. Behind every hour of deployment, exercise or flight are countless hours of maintenance, repair, and training – an extensive chain of work steps and know-how. ILA 2024 offers a unique opportunity to take a close look at the armed forces as well as the highly complex processes behind the scenes.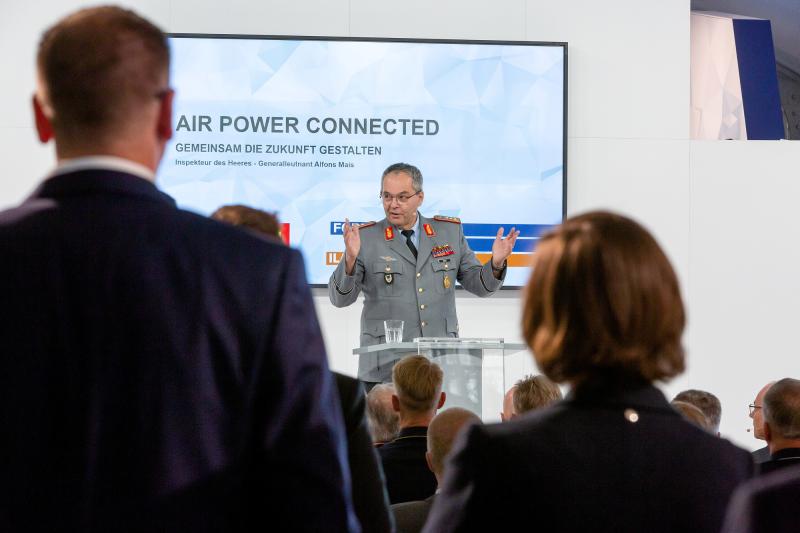 Insights at ILA Blog
In focus: the Bundeswehr
At the center of attention is the Bundeswehr, showcasing equipment and capabilities within the context of a "security policy turning point" and a renewed focus on national and collective defense.
Furthermore, the presence of allied and friendly armed forces enhances the overall picture at the event. In addition to the exhibition aspect, ILA also serves as a platform for exchange on conceptual development, future threats, and technological trends.
Future technologies for armed forces
The industry, as a partner and supplier to the armed forces, is also prominently represented and showcases its extensive portfolio of products and solutions. A special highlight is the Military Support Center, the joint presence of the Bundeswehr and the supporting industry. The MSC offers a direct insight into the collaboration between the armed forces and companies. The common goal is to ensure a ready-for-action Bundeswehr.
Become an Exhibitor
High technology for a secure future
As an innovation trade show, ILA also provides a glimpse into the future of military aviation, where the industry presents its technological projects and visions related to autonomy, connectivity, and artificial intelligence. The focus is on major flagship projects, such as the Future Combat Air System (FCAS), aimed at developing next-generation weapon systems, consisting of crewed combat aircraft and uncrewed support platforms. By combining professional and public content, ILA 2024 offers the opportunity to experience military aviation in unprecedented depth.