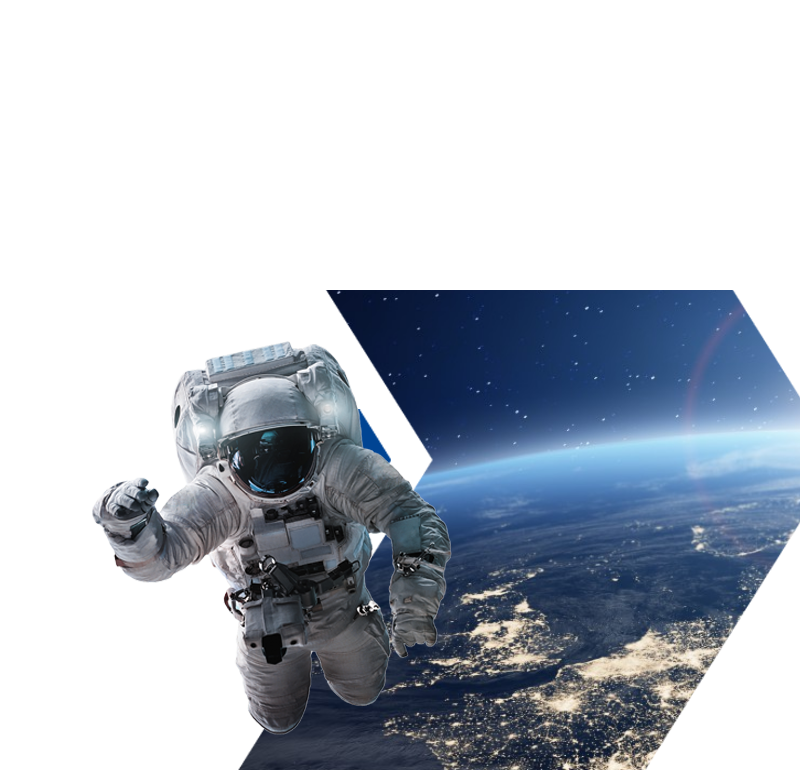 SPACE FOR EARTH
At ILA Berlin, you can meet international stakeholders from politics, business, and science. Visitors include representatives of innovative start-ups, as well as established space agencies and aerospace companies. Be part of our unique event program, featuring lectures and panels on current topics such as climate protection, digitalization, mobility, and security.
On the ILA STAGES, experts from business, research, and politics will discuss a comprehensive range of space topics. The New Space and Careers in Space section will also play a central role.
Space travel fascinates. Space travel connects. Space travel protects.
Considering such topics such as astronautical or robotic missions to the moon and mars, reliable communications worldwide, high-resolution earth observation for climate protection, precise navigation for intelligent mobility, or technology transfer through research, one thing is clear: space travel is all-encompassing.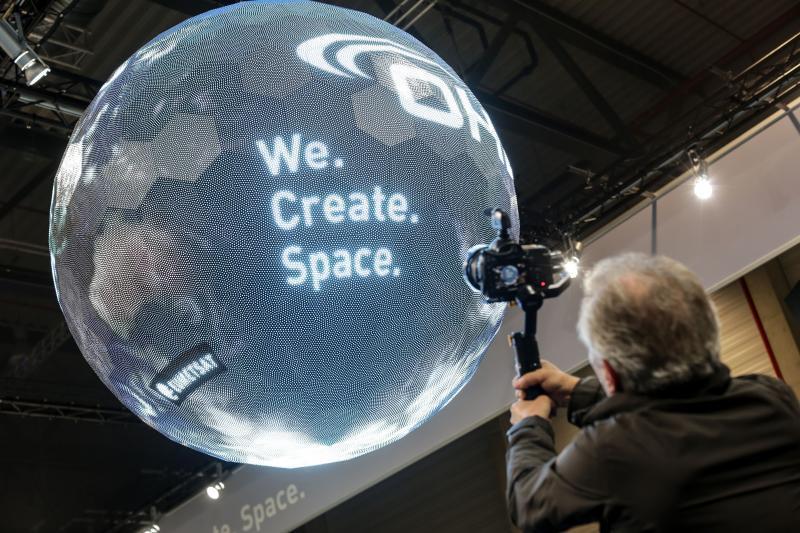 ILA Space Pavilion
Our ILA Space Pavilion will showcase how space travel is improving life on earth. We focus on the top issues in space travel:
Sustainability and climate change
Digitalization
Innovation and research
Protection and security
Unique space exhibition worldwide
Our attractive stage and event program will feature panels with leading space industry figures, discussing innovative high technologies, exciting space developments, and fascinating future projects.
Exhibitors from all over the world will present their latest products and services at the ILA Space Pavilion. Be part of it, too!

New Space Area
The commercialization of space and its integration with other industries will be a key focal point at ILA 2024. The New Space area will include established players in the space industry, as well as newcomers from the startup scene.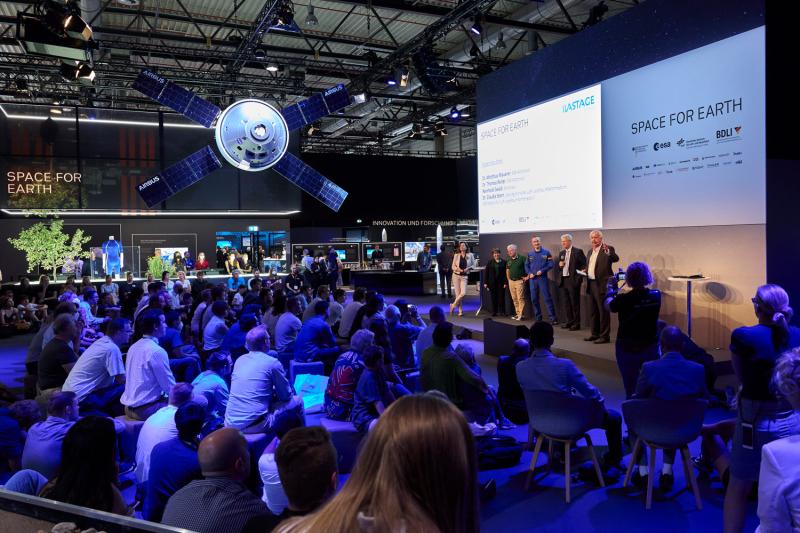 Become an Exhibitor
Space exploration is worthwhile.
The importance of space exploration remains consistently high. Many challenges of modern society can only be solved through innovations from this field. Key topics will be addressed in the ILA Space Pavilion: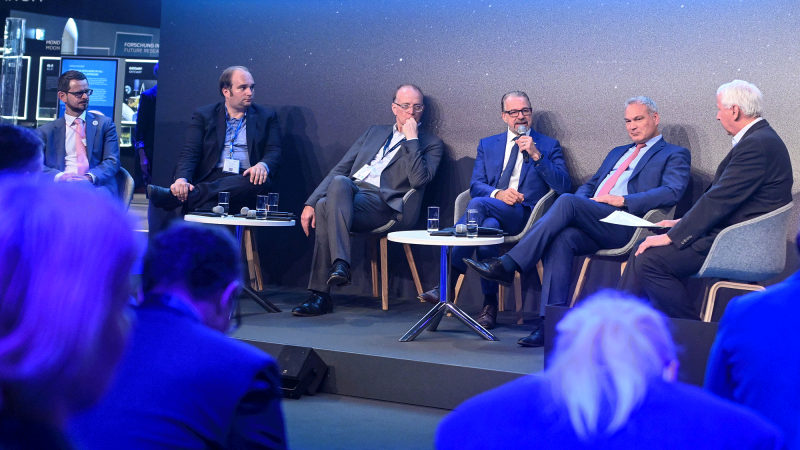 SUSTAINABILITY AND CLIMATE CHANGE
Sustainability, as well as environmental and climate protection, are central and urgent challenges of our time. Space plays a key role through environmental and climate monitoring. Through highly precise, global and long-term measurements, earth observing satellites provide objective information, which is indispensable for understanding climate change, making valid forecasts and making the right political decisions in the interests of sustainable development. Space applications are also of crucial importance for the conservation of limited resources: for example, satellite navigation enables routes to be designed efficiently, thereby conserving resources.
DIGITIZATION
Digital applications make a significant contribution to economic success in Germany, Europe and worldwide. The pandemic made clear – through the need for home offices and homeschooling – that digitalization is indispensable for our workforce and society as a whole. Space infrastructures, such as satellites, play a key role in many facets of digitalization: satellites collect, store, process and send large volumes of data, thus creating the basis for digital applications in the first place. Relevant applications include location-independent secure communication, automation, artificial intelligence, Industry 4.0, robotics and intelligent mobility. Especially in the commercialization of space travel, New Space, applications are revealed across the board. Digitalization is a fundamental building block for innovations, new digital business models and the growth of tomorrow.
INNOVATION AND RESEARCH
For high-tech locations, innovations are essential drivers of technology developments and progress. Throughout the aerospace industry, the rate of investment in research and development is particularly high, contributing significantly to the creation of innovations and new technologies. Basic research is combined with innovations to benefit millions of people worldwide. Space research provides new insights into the evolution of the earth and the solar system and creates new fundamental knowledge. Research in weightlessness on the International Space Station (ISS) plays an important role here, enabling advances in medicine and technology and creating technology transfers relevant to many sectors of the economy.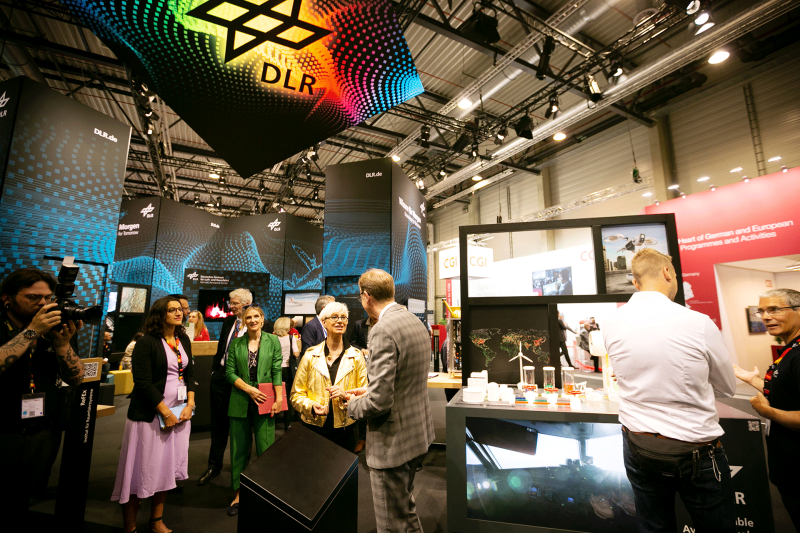 Insights at ILA Blog
PREVENTION
Space research enables both crisis prevention and early warning of risks and hazards to protect the human environment. The fields of application are very diverse and include both crisis prevention and rapid response. For example, earth monitoring satellites measure environmental indicators, such as the dryness of trees to prevent forest fires or signals of impending floods, earthquakes, volcanic eruptions and tsunamis. This protects many lives and strengthens the resilience of societies and the economy. This requires the secured functionality of space infrastructures.
While more and more players worldwide are recognizing the great benefits of space travel and are intensifying their space activities, the safe operation of space infrastructures must also be ensured. To this end, uncontrolled objects in space, known as space debris, must be prevented from arising in the first place. For example, satellites must be burned up and disposed of at the end of their service lives. High-tech space technologies make this possible and contribute significantly to the prevention of space debris, ensuring sustainability in space and the proper performance of satellites.

Security
Space-based systems are an increasingly important component of state security structures and alliances, particularly given the increasing number of political crises and conflicts. Such systems can inform institutional decision makers and equip modern operational and armed forces with high-resolution situational surveillance. Wide-area and encrypted communications for cybersecurity and precise navigation and positioning are also key considerations. The secure operation of space infrastructures requires the detailed observation of the space environment, the protection of space and ground infrastructures, and the prevention of space debris. Independent access to space is also a requirement for the sovereign use of space infrastructures.